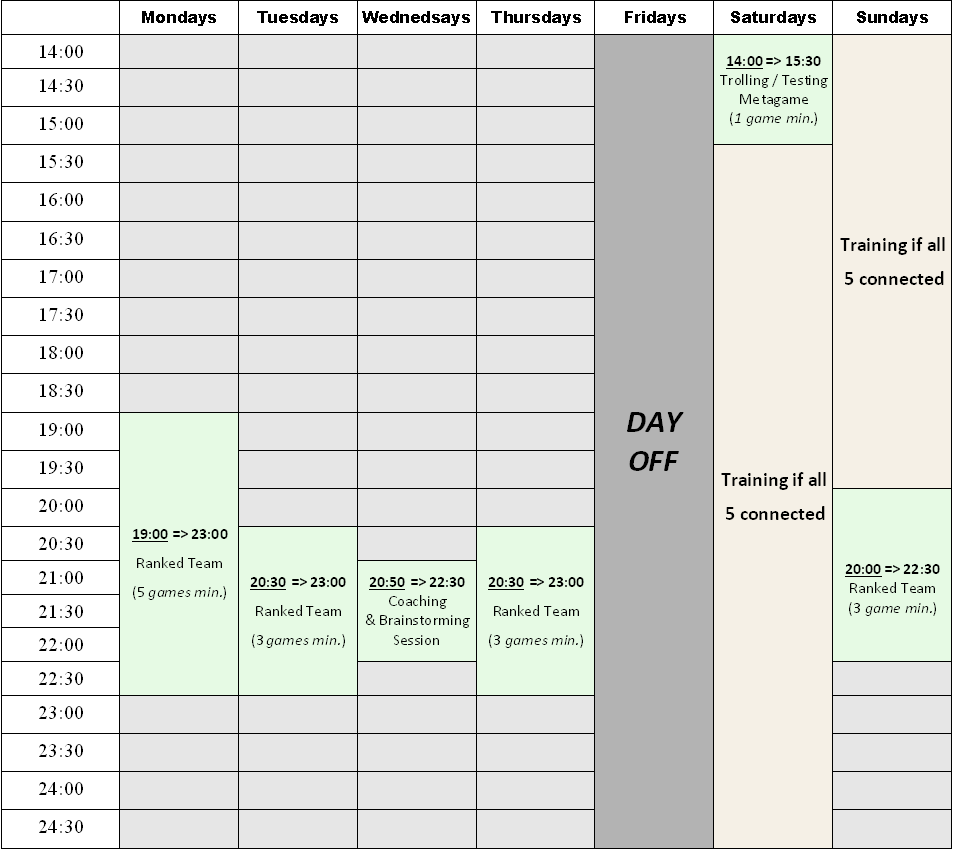 Ranked Team
: Session that you start at the fixed time, and you can play as long as all 5 of you are available (and not tired) ;)Tryhard, we need to be Challenger as fast as possible !
Coaching & Brainstorming
: Here we will do depending of what we need :
- Watching our replays,
- Watching some youtube videos together,
- Discuss about our main mistakes,
- Discuss about the meta-game and we can prepare our Saturday test-game,
- Discuss about our main strategy (picks/bans, lvl 1, jungle mastering...)
Training if all 5 connected
: If you are all 5 available, try to improvise few ranked games !
Trolling / Testing Metagame
: We will play 1 or 2 games (depending of players' availabilities) with testing champions, testing team-composition, testing new meta-game possibilities... We can prepare those games wednesday and anytime via the forum : everyone can propose some team-composition and we'll decide what to try the next saturday.
I will set-up some monthly events (Go4LoL, scrims with other teams, other tournaments...) in the forum : those events will be priority over these weekly schedules.
/!\ If you're exceptionally unavailable any day, please let us know in the Schedules Forum at least 24h before !


Last edited by I am Helpful on 31.03.14 12:31; edited 2 times in total